Easter was overcast and chilly, but that didn't deter us from attending the annual egg hunt hosted in a local park by our friends Jenn and Ed Pfeiffer. Jenn and Ed hid 1,300 eggs filled with candy and prizes throughout the park. Sixty or so energetic children fanned across the grounds and scooped them up by the basketful while their parents drank hot coffee and tea and chowed down on bagels and cream cheese. The highlight of the event was the search for the glitter-encrusted golden egg, filled with five dollars cash, in quarters.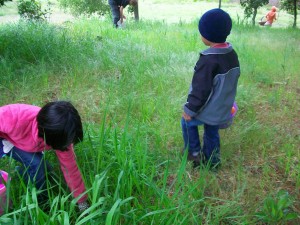 Hiding the golden egg is always Ed's job, and this year, as usual, he did it well. The kids searched for the prize without success for a half-hour before Ed gathered them around to reveal a clue. "It's on this side of the park," he announced, waving his arms toward the south end. The kids ran off again, screaming, but it took another twenty minutes before the treasure was discovered by a teenager, in high grass in a real nest, now abandoned. 
On the drive home, Mateo said that after Christmas and Halloween, Easter is his favorite holiday. Olivia agreed. She recalled the year our friend who was visiting from New York found the golden egg and pocketed the five dollars. Both Olivia and Mateo were hopeful that next year they'll be the lucky winners who strike gold. Their plan is to look on the opposite side of the park from where it was this time. "Excellent strategy," I said.
The egg hunt is one of our favorite traditions. Thank you, Jenn and Ed.