Croatia in Croatian is written Hrvatska. The capital city, Zagreb, is pronounced Za'-greb, with the emphasis on the first syllable. A walk through Zagreb reveals what feels like all of European history: from Roman walls, medieval gates and baroque churches to grand Austro-Hungarian buildings with Art Nouveau flourishes. On one corner might be the clean lines of an early modernist structure. On the next is a line of brutal housing complexes put up during the communist regime. Our hotel, the Regent Hotel Esplanade, located across from one of the city's many beautiful parks and near the train station, was built to accommodate travelers on the fabled Orient Express. From the minute I walked into the Habsburg-style lobby, with its marble, stained glass, and ornate metal, I was transported to that glamourous era. 
The country of Croatia has been independent only since the early 1990s, after a millenium of subjugation under the Ottoman Empire, the Austro-Hungarian Empire, the Fascists,  and the Communists. Standing in the middle of Trg Bana Jelacica (Ban Jelacic Square), surrounded by Viennese Secessionist architecture, artists making site-specific installations, and children playing around the spring that gave Zagreb its name (the place to scoop water), you get the feeling of a vibrant city emerging. I loved the open-air market, where locals buy fruits, vegetables, and fish; the impressive cathedral; and the many outdoor cafes. Tim and I spent hours wandering the streets in search of the perfect cravat—ties were invented in Croatia. We tried to visit an exhibition by Robert Smithson (of Spiral Jetty fame), titled Snoring in the USA, but unfortunately, it was closed.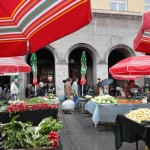 I definitely would have liked more time in Zagreb. With so much history, the capital is a fascinating city. But because of our schedule, we could spend only two days there. Up next: the neighboring country of Slovenia.