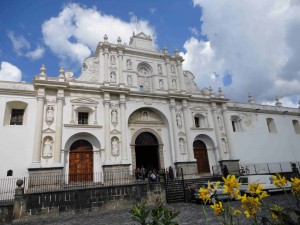 Summer in the United States is rainy season in Guatemala, and as anyone familiar with the tropics knows, when it rains here, it really pours. We just got word that the road to Panajachel and Lake Atitlán—where we planned to go next week with Tim and Mateo—is closed due to a mudslide. Not only tourists use the road, of course; it's the main thoroughfare through the central part of the country. With luck, the road will be cleared soon for car traffic.
The clouds are gathering this morning, but yesterday the sun never stopped shining. I took some photos: the beautiful Cathedral on the Square, and the Square itself. Notice the women selling típica: in 2003, when I fostered Olivia in Antigua during her adoption, vendors were a common sight in the Square. This trip, I notice many fewer vendors there. I heard most of them are now selling at the mercado or in handicrafts arcades. The effect seems positive; my impression, at least, is that being in the Square is now a more relaxed experience. Still the best place to get your shoes shined, too.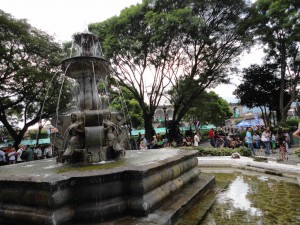 The photo above is a close-up of Antigua's trademark fountain, Las Sirenas, which eight-year-old Olivia deems "inappropriate." I'll leave it to you to form your own opinion.
Olivia and I are feeling more settled. We're usually not bothered by bugs in Guatemala, but this trip, for whatever reason, we are, with Olivia in particular suffering. A trip to the bodegona for some bug repellant with DEET seems to have solved the problem. We're keeping the open sores covered, essential to prevent possible infection.
I'm happy to report that despite the occasional down pours and pesky insects, we are thrilled to be here. Olivia loves walking along Antigua's streets and observing the sights as much as I do. For both of us, this place feels like home.
Tags: Antigua Guatemala, Antigua Guatemala tourism, fostering in Antigua, Lake Atitlan Guatemala, Las Sirenas Antigua, Panajachel Guatemala