To anyone who has been reading this blog, I apologize for the delay in posting. We've had more difficulty than I anticipated settling in. No one's fault—just the way things turned out.
When we arrived in Antigua on Sunday night, we discovered that it happened to be the feast day of Antigua's patron saint, St. Santiago. A happy coincidence as each town in Guatemala honors a patron saint one day a year. A platform was set up in front of the Cathedral–the main one, that everyone calls simply "the Cathedral"—and a phalanx of marimba players entertained the audience.  A wonderful introduction.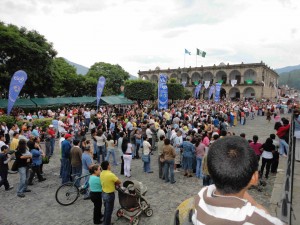 I'm here now with Olivia, using the computer at my favorite internet cafe, Conexion, the only place I've found that allows me to download photos. Good to be here, hoping to find our rhythm soon.
Tags: adoptive families, Antigua Guatemala, Conexion, internet cafe, travel with children