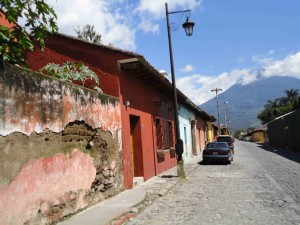 When I visit Antigua with Olivia, the first place we go is the house where we lived in 2003, which we rented through Elizabeth Bell, whom I view as the unofficial "mayor" of the colonial town. In fact, I picked up a recent edition of the Revue, the monthly English-language magazine with articles on local people and events, and I see there's a new column: "Ask Elizabeth." Makes complete sense to me: in my experience, there is no question about Antigua or its history that cannot be answered by Elizabeth Bell. She's even written a book about it, titled, appropriately enough, Antigua Guatemala: The City and Its Heritage. I referred to Elizabeth's book often when writing my memoir, Mamalita.
The photo above is of our front door, which I love for its carved pattern and weathered wood. When we first moved in, the door featured a brass door-knocker shaped like a crouching lion. Unfortunately, the lion disappeared one day, never to be replaced. Oh well. Even without the extra decoration, the door is still beautiful.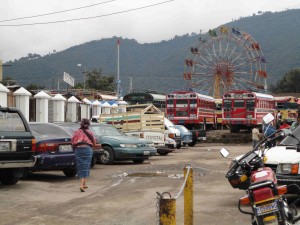 The last photo is of a ferris wheel we saw behind the mercado. I've never seen it there before, so I'm assuming it's temporary. Perhaps it's related to the festivities for Antigua's patron saint, Santiago. I'll have to ask Elizabeth Bell.
Tags: Antigua Guatemala, Antigua mercado, Antigua Tours by Elizabeth Bell, Elizabeth Bell, Guatemalan adoption