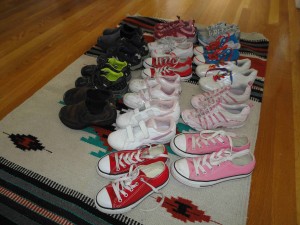 Olivia and I leave for Guatemala tomorrow, and like many adoptive families who visit, we are bringing items we know can be used by people who live there. Vitamins, toothbrushes, toothpaste, and the most important item of all: shoes. 
A newly described, preventable disease afflicts some people in the highlands of Guatemala. It is called podoconiosis. The disease is caused by dust in volcanic soil being ground into the skin, causing an immune reaction that results in swelling of the feet. For many years, podoconiosis was mistaken for sleeping sickness (which causes similar swelling of the legs in tropical regions). Recently, however, a group of German dermatologists figured out the connection between walking barefoot or in open sandals in volcanic soil for decades with the characteristic swelling of the feet. (Please note:  I've italicized for decades to emphasize that the disease develops over many years, not during a hike up the side of a volcano.)
In the developing world, as in the developed world, prevention is the key. At home, we make sure our children brush their teeth, wear their bike helmets, buckle their seatbelts, eat right and exercise, and use sunscreen. When we travel to Guatemala, we bring shoes.
Podoconiosis:
 http://www.meb.uni-bonn.de/dtc/primsurg/docbook/html/x11094.html
Sleeping sickness:
http://www.nlm.nih.gov/medlineplus/ency/article/001362.htm
Tags: Guatemalan highlands, podoconiosis, sleeping sickness, travel to Guatemala, tropical diseases of Guatemala, volcanoes in Guatemala