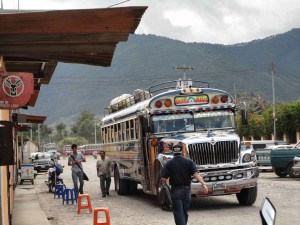 One of the first things I noticed when I came to Antigua in 2003 was the buses. They are rehabilitated Blue Birds, the school buses I rode when growing up in New Jersey. But here, each is individualized, painted by a specific artist. When Olivia and I lived in Antigua, we woke every morning to the sound of the conductor calling all commuters enroute from Antigua to the capital, "Guate, Guate! Guatemala!" We came to love the rhythm of those words. The buses seem so emblematic of Guatemala, that I chose a detail from a bus painting by Oscar Peren as the banner of my blogsite.
The photo above is of Olivia's favorite store, Nimpot. It's located on Fifth Avenida, right past the famous arch. This store has everything: masks, huipils (embroidered blouses worn by Guatemala's indigenous people), weavings, jewelry, carved wooden santos, and even mini-Maximons, the patron saint of bad habits.
Before I had traveled much in Guatemala, I used to go to Nimpot and stare at the hanging huipils, trying to imagine the village where Olivia's family is from. She and I still like to study the designs and marvel at the gorgeous handiwork. You can see several huipils on the wall behind Olivia, who is indeed strumming a harp. Nimpot, as I said, has everything.
http://www.nimpot.com/index.asp
Tags: Antigua Guatemala, fostering in Antigua, Guatemalan adoption, Guatemalan bus, Mamalita: An Adoption Memoir, Maximon, Nimpot