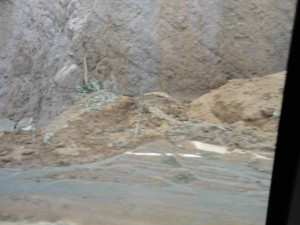 The worst of Tropical Storm Agatha had passed but on the road to Panajachel from Antigua, we could still see the devastation. Acres of mountainsides had loosened and slid, taking down stands of trees and boulders the size of Volkswagen bugs. The landslide in the photo above hadn't been cleared by the time we came upon it, and our tourist van slowed to a crawl as traffic was routed around it. Whether we'd missed the slide by minutes or hours, nobody knew. Like everybody else safe in a four-wheel drive vehicle, we just counted ourselves lucky.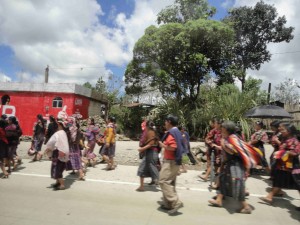 For us, the weather is a nuisance, but for the residents of the area, these storms often mean death. En route, we saw a crowd gathered around a body on the side of the road. A few days later, as we passed through the area, we saw a funeral procession carrying a wooden box. Olivia and Mateo are still talking about it. To my knowledge, it was the first time either one of them had seen a coffin.
As I know well from past experience, once you leave the capital and Antigua, Guatemala is a very different place. Many of the people subsist as seasonal farm workers; everyone who can grows their own corn. Floors are often made of dirt, walls of mud bricks or corrugated aluminum. Children sell handicrafts from the side of the road. A lucky few men and women operate their own tiendas.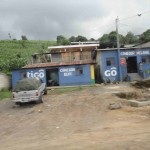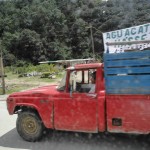 We considered Panajachel our home base as we explored other areas around Lake Atitlán. The last photo is of Pana's cathedral in the main square up from the main tourist area, Calle Santander. I wanted to take pictures of the church's lovely and simple interior, but once inside, I heard three local women chanting prayers as they crawled toward the altar on their knees. Instead of taking out my camera, the most respectful action seemed to sit in a back pew and pray along with them.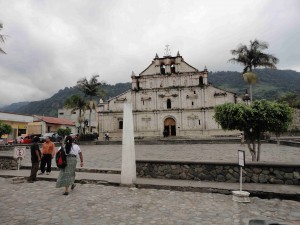 We stayed in the area a few days. Tomorrow, I'll post more photos from Pana and neighboring towns.
Tags: Antigua Guatemala, Calle Santander Panajachel, Guatemalan funeral, indigenous of Guatemala, landslide in Guatemala, Panajachel cathedral, Panajachel Guatemala, Tropical Storm Agatha