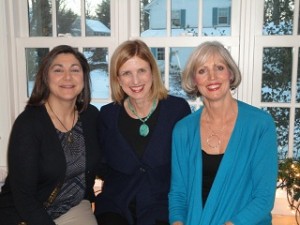 I arrived back in California late on Saturday after a whirlwind Mamalita reading trip to the East coast. I've lived in California more than twenty years, but in many ways, the East coast still feels like home.
Today is a holiday for our school district, so Olivia and Mateo are here with me now as I post a few photos from my glorious journey to visit friends–Debbie Bower and Maria-Rose Contini from grammar and high school in New Jersey; and Susanne Donovan, Anne Maffia, Robin Wray, Sean Culkin, and Brian Doerner from college in Delaware. Susanne invited me to speak to her book group in Pennyslvania. I have to tell you, that reading almost made me want to transfer my base of operations to the Keystone State, those women were so much fun. The last photo is of fellow adoptive parents who, through the wonders of cyberspace, learned about my reading at Borders Books in Bryn Mawr.
It's great to be back, fortified by my friends for life.
Tags: adoption memoir, Mamalita: An Adoption Memoir, memoir writing