We've been here only two full days, but it feels like a week. So much happens. There's so much to process. At some point, I want to talk about visiting with Olivia's birth family because I sense that so many readers of this blog are interested in the subject—either because they visit their children's birth families, too, or because it's something they may consider in the future.  But to be honest, the experience is so intense, I'm not sure how to frame it. Not only because I'm sensitive to the family's privacy, and to Olivia's, but also because every visit is so emotional—happy and sad, intensely so, both, sometimes in the same moment.
It's now 10:30 at night on Sunday, and thank goodness for Spanish-language Discovery Kids on PBS. Olivia and Patrice are brushing up on their Spanish with Chica Super-Sabia, Lazy Town, and Mister Maker while I write this. We're all exhausted.
So I thought I would post some photos from the start of our trip. The new La Aurora International Airport in Guatemala City—if you haven't been back since 2004, you'd be amazed. The airport is finished, and it is beautiful. The photo at the top is of Olivia at the brand-spanking new luggage carousel. The photo below is of us at breakfast at the Camino Real with my sister and ace traveling companion, Tia Patrice.
Here we are in the lobby. The porter behind us has known Olivia since she was a baby.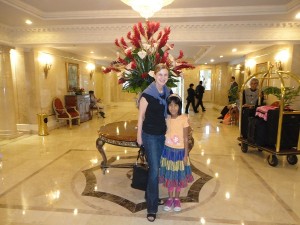 I took the last photo on the road to Panajachel. A pit-stop in Tecpan at Katok is a must, even if you don't take a detour to view the ruins at Iximche (and please do so if given the opportunity).  The photo here doesn't do the place justice—you can't smell the fragrant woodsmoke, or taste the delicious homemade pan integral and fresh berry jam. I wish you could.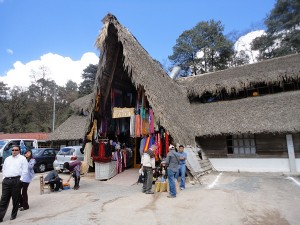 Thanks for reading. Time to get some sleep. xoxo
Tags: adoptive families, Aurora International Airport, Camino Real Guatemala City, heritage trips, Iximche ruins, Katok restaurant