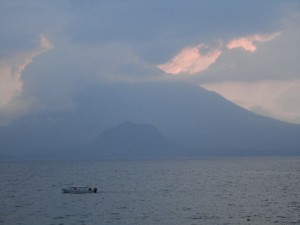 Anyone who has read my book, Mamalita: An Adoption Memoir, or anything else I've written, knows that I am an advocate for open adoption whenever possible. I believe that inside every person, at a very basic and profound level, is a need to know who they are and where they come from. And by that, I mean who they are biologically, who they are in their DNA. A person needs to know who shares her blood.
That need, in my opinion, in no way undermines my role as an adoptive mother. Rather, it acknowledges a life–and a biology–that existed before me.
That's one reason why I am here with Olivia in Guatemala, so she can visit with her birth family. Are our visits straightforward and uncomplicated? Honestly, they aren't, for any of us. Not only do we grapple with the complexity of adoption, but we also face the challenges of two vastly different cultures and lifestyles. Speaking elementary Spanish and no K'iche is the least of it.
Despite the challenges, though, these visits with family are the most important days of our year. I believe I can speak for everyone involved when I say we feel healing, and unity, and love. When we started Olivia's adoption in 2002, never did I dream that nine years later, we would walk down the calle of Panajachel with her birth brother and sister, or drink Coca-Cola in the mercado and shop for hair barrettes and blue jeans. Nor did I imagine kneeling beside her birth mother and Abuela in church, offering prayers in each of our languages. But that's the reality of our family. That is who we are, now and forever.
For anyone who has been to Guatemala, or hopes to visit, below are a few scenes from Panajachel. My enormous fruit cup at Hotel Kakchiquel, the  vendors, the bus to Solola, the church steps. This is a beautiful country. We feel lucky to be here.
Tags: adoptive families, Calle Santander Panajachel, Hotel Kakchiquel, Lake Atitlan Guatemala, Panajachel cathedral, Panajachel Guatemala