Yesterday morning, while Olivia and Tim stayed home to struggle with my daughter's math enrichment homework–a long story for another day–Mateo and I took a walk on the beach. At that hour, on a Thursday in April, the flat stretch was almost deserted. I strolled while Mateo skipped ahead, stopping every few feet to examine the thousands of rocks and shells that had washed up on shore. Neither of us could remember ever seeing so many.
On the way home, we spied two sweethearts kissing in the shallow water. In the sand, one had drawn a heart with an arrow through it, proclaiming his love. Mateo asked me to walk ahead, then wrote his own proclamation, shown below. If I could have, I would have cast his drawing in bronze. As an alternative, this picture.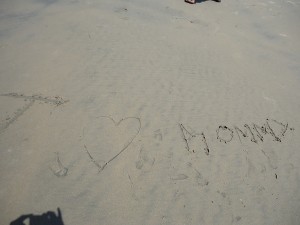 Afterward, the kids decided they wanted to go swimming, so we headed for a public pool. If you ever wonder why a large number of athletes who compete on the national level live in San Diego, here's why: Local municipalities and their residents dedicate substantial funds to athletic facilities, like this public pool, open to non-residents willing to pay a day rate. Wonderful. Tim and I took turns watching the kids and alternated swimming laps. Everyone got a work-out.
After an afternoon playing in the sun, pizza sounded good. Thus ended another beautiful day in San Diego.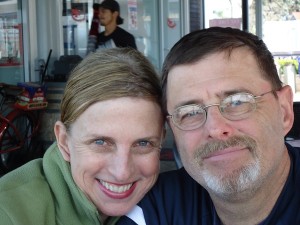 Tags: adoptive family travel, Coronado California, Coronado parks and recreation, Guatemalan adoption, Imperial Beach California, international adoption, Mamalita: An Adoption Memoir, San Diego Harbor