This weekend, Olivia turned nine. Our celebration was small— my sister over for Olivia's favorite dinner of Tim's spaghetti, and a few hoped for gifts: a sewing kit with scissors and thread (sewing small stuffed animals by hand is Olivia's current passion), a cookbook, a puzzle, and a pack of origami paper with a booklet of instructions.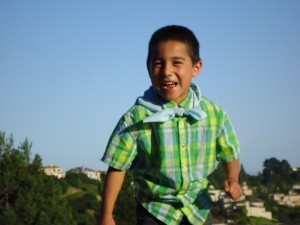 Mateo entertained, pushing together some deck chairs on which he hopped and shuffled in a free-form tap dance; Olivia modeled the earrings she beaded for herself–dangling clip-ons in her favorite colors, purple and  pink. As my sister showed Olivia and Mateo some of her favorite origami designs, I learned something new about my husband. "Origami" was his favorite class in kindergarten; that and "Abacus." I knew Tim spent his formative years in Japan and Germany—his dad was in the military–but had no idea he'd mastered origami. You think you know everything there is to know about someone, and then discover a new detail.
The day ended with the annual Ladybug release. The bugs are good for the garden–reportedly they eat aphids, although that population continues to thrive–and every year Tim buys Olivia and Mateo a box. According to Tim, if you release ladybugs in the evening when the weather's cool, they won't stray far from home. As Olivia turned one year older, that sounded good to me.
Tags: adoptive families, birthday party for kids, Guatemalan adoption, ladybug release, transracial adoptive families