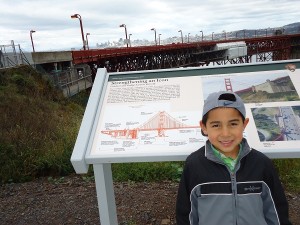 My husband has been in China on business for the past week; his trips always serve as a good reminder of how much he does around here.
Whew!
Because Mateo had never walked across the Golden Gate Bridge, he and I did that. On a sunny day, the view takes your breath way, but even when clouds fill the sky, the jaunt is fun. Noisy though! Very.
Our friend, Veronica, and her family invited us to their home for dinner, where Veronica and Olivia made authentic Guatemalan tortillas by hand, among other traditional delicacies. Yum.
Finally, last Sunday, I read from Mamalita at Copperfield's in Santa Rosa. Copperfield's is a cozy, beautiful, and friendly independent bookstore–a great place to spend a Sunday afternoon. My dear friend Kallie was there— we met when we both fostered our daughters in Antigua. A perfect day made even sweeter.
Next Friday marks the final day of the school year.  How did that happen?
Tags: Copperfield's Santa Rosa, Golden Gate Bridge walk, Mamalita book tour, Mamalita: An Adoption Memoir, pepian from Guatemala