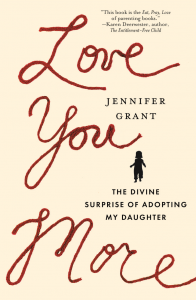 My friend, fellow blogger, and adoptive mom Sharon Van Epps is hosting a book giveaway on her blog, Whatever Things Are True: The Good, the Bad, and the Beautiful in the World of International Adoption. The contest closes on Sunday, September 4 at 5 p.m.
The winner will receive a signed copy of Love You More: The Divine Surprise of Adopting My Daughter, by Chicago Tribune columnist and mother of four (through birth and adoption), Jennifer Grant.  In my endorsement of the book, I called it "smart and funny, like a conversation with a good friend." Here's what Sharon Van Epps wrote:
Jennifer Grant had a strong marriage and three happy, healthy children. She had a fulfilling life as a full-time mother and part-time newspaper columnist and a home in an idyllic Chicago suburb. To a casual onlooker, her family would seem complete. But Grant and her husband David knew better. They felt that their family still lacked one member, and felt themselves drawn to consider adoption.
In LOVE YOU MORE: THE DIVINE SURPRISE OF ADOPTING MY DAUGHTER, Grant details the exciting and at times gut-wrenching, search for Mia – the daughter she eventually found in Guatemala. Grant walks the reader through the family's decision to adopt, the strenuous search for their child, and the process of adjusting to life as a multicultural family. The author also addresses difficult topics like spiritual doubt, miscarriage, and the ethics of adoption.
Love You More will a great addition to your adoption library. And it's free!
Click here to enter. Good luck~
Tags: adoptive families, Chicago Tribune, Guatemalan adoption, international adoption, Love You More by Jennifer Grant, Sharon Van Epps, transracial adoption, Whatever Things Are True blog