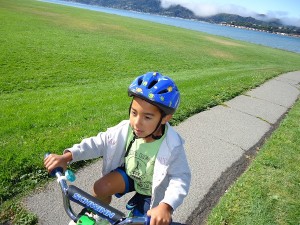 Hard to believe, but Olivia and Mateo started back to school today. For years, people have told me childhood passes like a flash, but I could never quite believe them. Now I can.
Here are a few pictures from the last days of summer. The one above is from yesterday, when Mateo and I took a final spin along our favorite bike path. In the photo below, Mateo is showing off his new soccer ball from Guatemala.
In the last picture, Mateo greets his first day of school with a smile. Summer's over, all right. I'm sorry to see it go.
Tags: adoptive families, bike rides with kids, first day of school, first day of school anxiety, Guatemalan adoption, Guatemalan soccer, Guatemalan soccer ball, international adoption, Marin bike rides, transracial adoption