For more than a decade, every April, I've driven past the ranuncula fields along the 5 freeway in Carlsbad, California without stopping, first when I was single and living alone and motored south from Los Angeles to visit family, and now, as a married woman in San Francisco, with husband and children in tow.  
Last week, at the tail end of our April Spring Break visit, I told Tim and the kids I wanted to drive north on the 5 to Carlsbad, but this time, I actually wanted to get out of the car. After all these years, I yearned to walk through the 50 acres of blooming ranunculas and see the flowers up close. As luck would have it, the Friday we decided to go, San Diego experienced one of its rare and drenching downpours.  When we showed up at the ticket booth, dripping wet and dressed in all the clothes we were able to scrounge from the back seat of the minivan, the attendant asked "You're here today? Are you crazy?!" 
Well, yes, as a matter of fact, we probably are. That aside, we had driven north to see the ranuncula fields–we'd even parked and gotten out of the car!–and by golly, that's what we were going to do.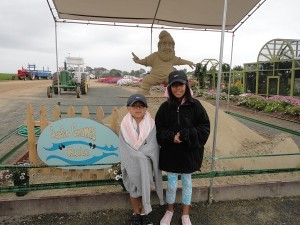 Here's a series of photos I took, of Mateo and Olivia posing in front of a sand castle "surfing gnome"; a lovely red tractor; a sculpture of a kneeling girl wearing a sunhat; and a pre-Disneyland era play house.
 I have to admit, the adventure started with groans and protests–let's just say my children never relish the prospect of being uncomfortable and wet–but after it was over, as we sipped warm hot chocolate at home, the kids pronounced the fields "awesome" and the rain "not so bad."
I'll resist the impulse to say anything about stopping and smelling the–you know the rest.  ~
Tags: 405 freeway, 5 Freeway, adoptive families, family vacation San Diego, Flower Fields Carlsbad, Ranunculas Carlsbad California, summer travel with children, transracial adoptive families