The house in New Jersey where I grew up sat a block from the Atlantic Ocean, close enough that the air smelled like salt water, and I could walk there barefoot whenever the urge struck to dig my toes in the sand, which for me as a young girl, happened almost every day. Something about the repetition of the crashing waves and the long view of an endess horizon hypnotized me. No matter what else went on in my life, I left the beach calmer and happier than when I arrived.
I'm a grown woman now, the mother of two children, but at heart, I'm still the same girl. I'd rather walk along a seashore than do almost anything else. Lucky for me, my family feels the same.
One day, Mateo and I discovered a shopkeeper originally from France who bakes old-fashioned, handmade pretzels, which reminded me of the ones they used to sell at the Asbury Park Boardwalk in Convention Hall. These pretzels are labor-intensive: first kneaded, then boiled, and finally salted and cooked. The taste was just as I remembered it: chewy and slightly sour, with just the right sprinkling of dense, chunky salt. Heaven.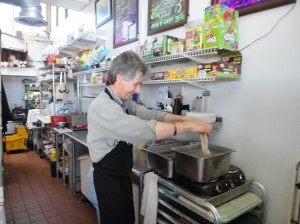 Tags: Asbury Park Boardwalk, Asbury Park Convention Hall, beach in San Diego, family vacation in San Diego, Imperial Beach San Diego