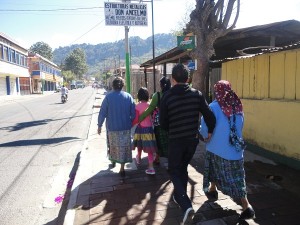 I feel guilty even writing this but I'm gearing up for another trip to Guatemala. For close to a decade, I've promised myself that one of these years I'd be in Antigua for Semana Santa, the holy week that leads up to Easter. That year finally has come. Only Olivia and I are going; my husband and Mateo will hold down the fort here. For the past weeks, I've been accumulating small gifts for Olivia's family there, which is always fun. By now I know their favorite colors and tastes, the things they like and what they need. Our gigantic suitcase is filled.
The best part is putting together the photo album from the previous year's visit. I love watching Olivia and her family page through it together, laughing at some remembered event—Dulce getting a ribbon woven into her hair, or Santiago eating an ice cream cone at Pollo Campero. Everyone will remark on how tall Olivia is compared with last year, and how her hair is still beautiful, but different. I'll be amazed at how much her brother and sister have grown up, and delighted to see the family look happy and healthy.
A big part of loving someone, I think, is sharing a history with them. How grateful I am that we're able to help Olivia create a history with her birth family. How lucky I am to watch it develop.
Tags: birth family visit, Guatemalan adoption, heritage trips to Guatemala, Semana Santa in Antigua