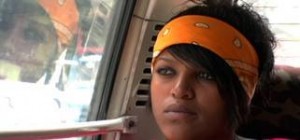 I just finished watching the powerful, realistic, and moving PBS documentary Girl, Adopted. Here's the description from the PBS Global Voices website:
Girl, Adopted is a contemporary coming-of-age story that follows Weynsht, a 13-year-old Ethiopian girl, from an orphanage in Africa to an adoptive American family in rural Arkansas. An irrepressible adolescent, Weynsht searches for identity in an effort to find out who she is in the aftermath of her adoption. The film follows her struggle for love among strangers and to understand what to make of this love on an unexpected return trip to Ethiopia.
 Weynsht's story offers a rare, child's-eye view of being adopted across race and culture. Taking neither a pro- or anti-adoption stance, the film acknowledges the complexities involved and gives a real voice to the experience. The central question that Girl, Adopted asks is, "What is it like to get everything you need but to lose everything you know?"
The defining scenes in the film occur when, after two years of living in Arkansas and now speaking English, 15-year-old Weynsht returns to Ethiopia with her adoptive dad and sisters. During a visit with the woman who raised her for three years before she was placed in an orphanage–both Weynsht's parents died when she was five–Weynsht discovers she has an older, biological brother, now in his early twenties. Not surprisingly, she feels strong emotions around this discovery–elation, confusion, abandonment, and curiosity, to name a few. During the same visit, Weynsht visits her former orphanage, which also provokes strong and conflicting emotions.
As an adoptive parent who has witnessed reunions between my own two children and their birth families, as well as the reunions of others, the responses and reactions of everyone involved resonated as absolutely real. What I valued about seeing Weynsht's meeting unfold was that I had no personal attachment to it, and thus could experience it as an outsider. I kept thinking: "This is hard. This is complicated. This is not straightforward or easy. Especially for a child." Truly, Weynsht is an amazing young woman.
Finally, I loved the insight gained by the adoptive dad and mom as they developed in their roles as parents. I don't have a transcript and must rely on my notes, but at the end of the film the dad said something like, "I used to think adopting a child was something everybody could do. All you needed to do was open your homes and hearts to a kid. I don't hold those same views today…You have an idealistic view of adoption. And as you go along, the details of that are filled in… But the reality of it is, it's worth it, even if it's hard." The mother finishes by saying, "I would never, ever say that Weyhsht will one day be completely whole, and that everything will be cohesive. She always will be Ethiopian, she always will be African-American."
In my opinion, Girl, Adopted should be required viewing for anyone considering international adoption, and particularly anyone considering adopting an older child. It's that good.
Tags: Adopted on PBS, adoption documentary, Ethiopian adoption, Girl, PBS documentary on adoption