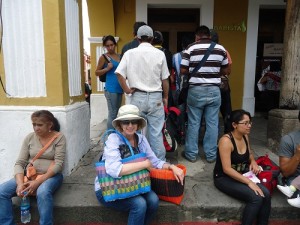 We're weeping for Brazil here. Olivia now is a fan after watching the World Cup in Guatemala, where in the most remote hamlet, tienda, restaurant, or cafe, Guatemalans cheered: "Brasil! Brasil!" Every transistor radio, every TV set, tuned, round the clock, three games a day. FIFA! Futbol! Absolute soccer madness, contagious.
In the photo above, taken during our most recent trip to Guatemala, crowds cluster outside a coffee house in Antigua with a large-screen TV: they're non-paying customers content to watch the contest from afar.
Can somebody say "Gooooooaaaalllllll!"? We're converted.