If you happen to be in Panajachel, Guatemala, please buy a card from my 14-year-old friend, Jesus. Three years ago, Jesus spotted my son Mateo and me through a school window in Santa Catarina, a nearby village–we do stand out–and the next day, ran after us on the street in Panajachel."I saw you in Santa Catarina," he said, in perfect English. "You want to buy a card?"
Every year since then, Jesus has found us, and every year, we buy more and more cards. This trip, Olivia and I were waiting for a ride to our next destination when out of nowhere bounds Jesus, clutching a bundle of cards encased in plastic, calling "Senora, senora!" I was happy and relieved to see him. When we'd been in Pana a few days, and he hadn't yet materialized, I worried.
Ask Jesus for a discount, but be warned that he bargains hard. At some point during the negotiation, in a serious voice, he probably will utter his favorite phrase, "Business is business."
Here are two photos of Jesus's wares–details of the embroidered blouses known as huipiles–and, above, a picture of him with Olivia and an Abuela, who, by the way, gifted me with a lovely textile to wrap tortillas.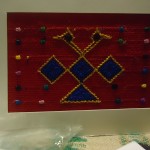 Tags: adoptive family travel, heritage trips to Guatemala, Panajachel Guatemala, travel in Guatemala