Our kids have never been to Disneyland or Disney World, so for them, Sea World is the ultimate in fantastic. For as long as possible, I plan to keep it that way. Not because I have anything against Disney, but because for me, Sea World is big enough to navigate, thank you very much. We have spent the past two days there, and will go back again. What can I say? Olivia and Mateo love it.  For anyone who is planning a trip, two words: Season pass and free parking. Invest in both of those things, and you may break even.
Remember to wear a hat. Even when it's overcast, the San Diego sun is strong. Bring lots of water. And raise the white sugar flag, because cotton candy is just part of the deal. (I'm sorry.)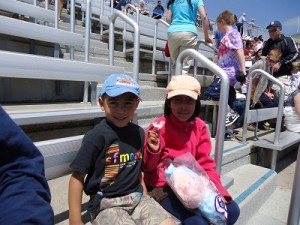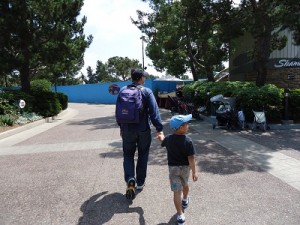 Our favorite show is Pets Rule, which is exactly what you imagine it might be. Running around and banging on things is also fun.
Mateo on percussion.
The new spectacular, Blue Horizons, features singing, diving, dolphins, and trapeze artists. This show has it all, even birds.
Our family reflected in a fun house mirror.
On to Day 3!