Last night, I got to read at the Beverly Public Library in Beverly, Massachusetts. It's a beautiful building, made with the kind of thick, heavy stones that are designed to last. Outside, the air was frigid, but in the meeting room downstairs, the ambience was cozy and warm. My sister, Deanna, her husband David, and their three girls were there, as were an adoptive mom with her son born in Guatemala, a woman who leads art tours and volunteers at Hermano Pedro in Antigua, and a mother to two girls from China. One couple was considering adoption and wanted to hear what I had to say. Others knew adoptive families. Some people had read the book and loved it. A handful were simply curious. Everyone was incredibly nice.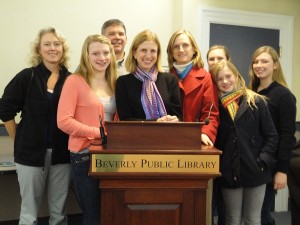 A local independent bookstore, The Book Shop of Beverly Farms, supplied copies of Mamalita, and my sister Deanna sold every one of them. Thanks, De! Thank you, too, to Anna Langstaff, Assistant Director of the Beverly Library, for setting up the lovely event, for posting it on the library website, and listing it in the local newspaper.
Hearing other people's stories and thoughts about adoption has been a profound experience. I feel very privileged.