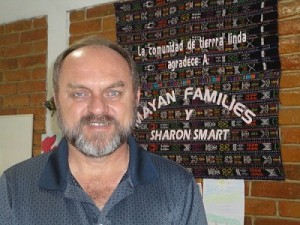 An under-reported outcome of adopting from another country is the loyalty many families feel for the birth-country of their children, and the actions that result. I'm not talking about connections with birth and foster families, visits to former orphanages, and annual heritage trips, although each of those things is wonderful and to be recommended.
I'm talking about the financial contributions adoptive parents make to organizations that support families, children, and education. In Guatemala alone, there are dozens if not hundreds of such organizations that receive thousands of dollars in donations from families with children born in Guatemala. Mayan Families, Common Hope, Behrhorst, Orphan Resources International, Roots and Wings International, Guatemala Aid Fund, and Mission Guatemala are but a few of the many groups which do good work and receive funds from folks in the United States, including a large number of adoptive families. Pictured above are Dwight Poage, co-founder of Mayan Families, and a few members of his staff.
This dedication to birth country is by no means limited to families with children from Guatemala. Many Americans with children born around the world help when and where they can. Today, I ran across an article about a fundraiser in Knoxville, Tennessee for two organizations that raise money for orphans in Africa and elsewhere, Show Hope and Blood: Water Mission. In this online post, KnoxNews reports on international help efforts:
Blood:Water Mission, founded by the Christian band Jars of Clay, seeks to empower communities in Africa to work together against the two primary causes of children being orphaned: devastation caused by HIV and AIDS and sickness and death caused by contaminated water.
In January, board members of Kalu Grace Foundation and other Knoxvillians traveled to northern Kenya to witness the products that Blood:Water Mission has been able to implement with last year's Hope in the Dark donations.
A water tank has been installed in the desert region of Marsabit, Kenya, giving 66 percent of the population who were without clean water access. Knoxvillians' donations also helped fund the Tumaini ("hope") Clinic in Marsabit so that people in the district infected with HIV and AIDS no longer have to travel 10 or more hours to the nearest treatment facility. Since the opening of the clinic, the community has access to integrated prevention and support programs as well.
***
Other donations raised at Hope in the Dark will again fund grants through Show Hope. Show Hope, founded by Christian recording artist Steven Curtis Chapman and his wife, Mary Beth, aims to mobilize individuals and communities to care for orphans by providing grants to families adopting children from among 40 countries. Last year's donations provided Show Hope grants to adoptive families throughout Knoxville and the U.S. who are now in the process of bringing home children from African countries.
No one person can change the world. But many adoptive families do what they can to help one small part of it.