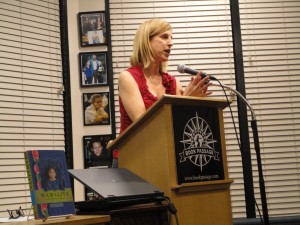 The Mamalita Book Tour got off to a great start on Saturday night at Book Passage in Corte Madera. The bookseller who hosted the evening estimated the crowd around 140 people. Friends from every part of our lives showed up: writing groups, classes, book clubs, school, work, even a few moms from Mateo's kindergarten bus stop.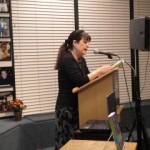 Linda Watanabe McFerrin set the evening's tone with a warm and wonderful introduction. Linda is the founder of the Left Coast Writers, a Book Passage group to which I belong, and a friend and teacher to many in the Bay Area writing community. As Linda later said, "The room was filled with love." The generous spirits of Linda and her husband, Lowry, added to that feeling.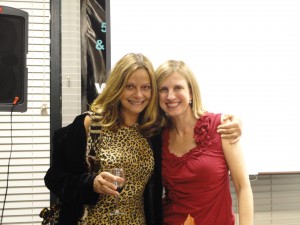 In the "Acknowledgments" section of my book, I thank Joyce Maynard as "my teacher, mentor, and friend." Joyce is all those things to me, and to the many other writers who have attended her workshops and classes. I was so happy Joyce and I could celebrate the book's publication together.

My friend, Kallie, was there with her daughter Maya. As some of you who read my blog know, Kallie and I met while fostering in Antigua in 2003. She and Maya traveled to Guatemala this past summer with Olivia and me as we revisited sites important to our families. Kallie's mother and two sisters came to the book launch too, as did her lovely niece, shown here with Maya and me.

I felt especially privileged when other adoptive parents came up to tell me how much they related to the emotions of our story, if not the actual details. One adoptive mom, Meredith, whom I know only through her blog, drove up from Central California so we could finally meet in person. (Meredith, thanks for coming; can't believe we both forgot to take a picture!)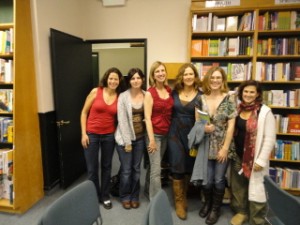 My book launch would not have been complete without representation by the Book Passage-sponsored Writing Mamas and my Friday night writing group, the Shrinks. By the time I remembered to take a photo, several members of each had slipped away. So sorry—next time!
The Mamalita Book Tour is off to a terrific start. Thank you, everyone.