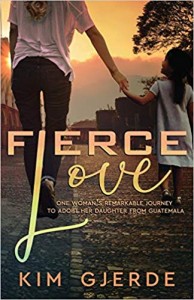 I'm thrilled for my friend, Kim Gjerde, whose memoir Fierce Love: One Woman's Remarkable Journey to Adopt her Daughter from Guatemala is now available on Amazon. Kim's experience is one many can relate to. Here's my blurb on the back cover:
"Kim Gjerde's riveting account of adoption from Guatemala kept me turning the pages, eager to see what happened next. This book holds back nothing—the trusting innocence of Kim and her husband, the unscrupulous players they encountered along the way, and their steadfast devotion to their beloved daughter. If anyone still wonders why adoptions between Guatemala and the United States remain closed, read Kim Gjerde's Fierce Love and understand."
Lots to discuss for book clubs. Order your copy today!