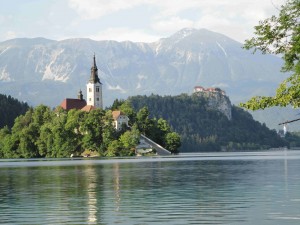 Slovenia. Who knew? Maybe everyone else is aware of this tiny country, half the size of Switzerland and squeezed in between Austria, Hungary, Croatia, Bosnia, and Italy, but I wasn't. Prosperous and energetic, Slovenia is a member of the EU. It's a paradise for anyone who loves adventure sports, with hiking, mountain biking, and rowing, and also a great place for children. Everywhere we went, we said "Olivia and Mateo would love this." Tim insisted that someday Slovenia will be the first European country our children will visit.

One of our favorite places for kids was the Postojnska Jama (Postojnska Caves), said to the second largest cave system in the world, after Mammoth Caves in Kentucky. I've never been to Mammoth, but can't imagine anything more spectacular than the Postojnska Jama. You ride a small train through narrow tunnels that twist and turn like a ride at Disneyland, passing stalactites and stalagmites that look like otherworldly figures, organ pipes, or spaghetti, then get out and walk for an hour through open chambers and over gorges. The other place our children would love is the town of Lipica, home of the stud farm where the white Lipizzaner horses were first bred. The mother horses had just foaled, so lots of little colts were prancing around. We walked through the stables, and I managed to eat an ice cream, too. Definitely a child-friendly place.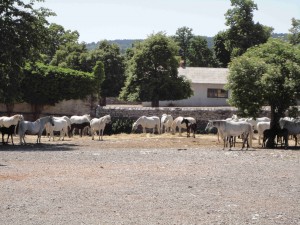 We drove through the Soca Valley, where Ernest Hemingway set part of his novel, A Farewell to Arms. As soon as we return home, I plan to reread the book. The valley is a haven for kayakers, rafters, rock-climbers, and mountaineers. The color of the water in the Soca River is a green blue I've never seen before. Gorgeous.
The best place of all was Lake Bled. For centuries, this spa town at the foot of the Julian Alps has been a destination for Europeans seeking the cure in its thermal waters. The late Yugoslav president Tito had a summer home on the lake, so you know it's picturesque. A footpath surrounding it is used by walkers, bikers, and mothers pushing jogging strollers. The lake is also the site of international rowing activity. Several teams of rowers from Bled have medaled in the Olympics, including a gold in 2000. With a circumference of five miles, Lake Bled is one-tenth the size of Lake Tahoe. It's charming, manageable, and perfect.
Slovenia. Check it out.