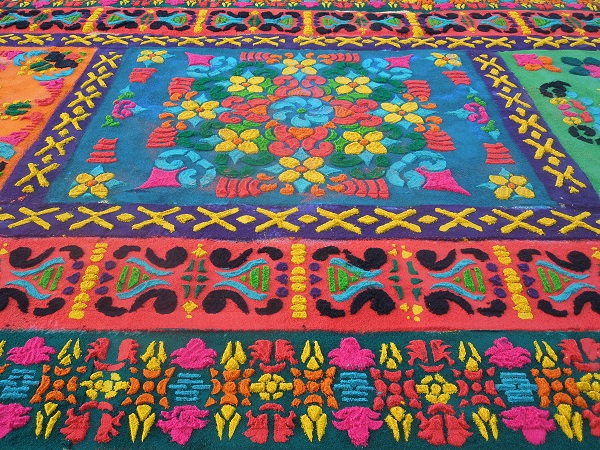 Finally, I'm posting photos of just a few of the amazing alfombras Olivia and I saw during our trip to Antigua over Semana Santa. In Guatemala, unlike in the US, Good Friday is the day considered most significant, which is why a friend of mine, a Catholic nun who lives in-country, describes Guatemalans as "Good Friday Catholics" versus Catholics in the US, whom she labels "Easter Catholics." Having now participated in my first Semana Santa, I understand what she means.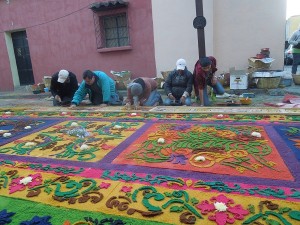 Driving to Antigua from the airport, our cab driver had told us that the most spectacular carpets of all of Semana Santa could be seen on a street on Antigua's north end called Calle Ancha. Teams of artists would have started construction around midnight on Holy Thursday; the earlier we arrived on Good Friday morning, he said, the better. Five AM was the hour he recommended, because that day's procession started from the church known as La Merced around then, and would arrive at Calle Ancha by 7. As I explained in an earlier blog post, an essential element of constructing the carpets—for the artist and viewer—is watching them destroyed by the feet of the hundreds of pilgrims walking over them as they carry the procession platforms. To see the work intact, we needed to get there early.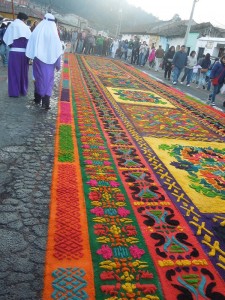 Another adoptive mom, Rebecca, and I, slipped out of our hotel and were headed north by 5:30. After a few false turns and a run back to my room for my camera, which in my pre-coffee haze I had forgotten, Rebecca and I found Calle Ancha. Spectacular. Unforgettable. Worth every effort.
What I hadn't expected, although I should have, was the tone of the day, and every day during Semana Santa, really. "Reverent, solemn, prayerful" are the most accurate descriptors. "Artistic, creative, witty" are a close second. The processions themselves will require a separate post—in their own way, they were as gorgeous and impressive as the carpets.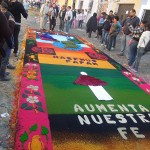 Semana Santa stands out as one of the best experiences we've ever had in Guatemala. We'd love to return to see it again.
I hope you get there, too. Just be sure to make your reservations early! ~