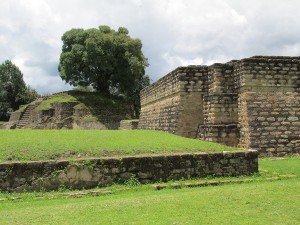 On the way to Lake Atitlan, our group of 12 stopped to visit the ruins of Iximche, in a field on the outskirts of Tecpan. The ruins are not nearly as spectacular as the ones at Tikal–which I visited in 2003–yet the place is infused with a compelling grandeur. The air itself feels sacred, maybe because at the very end of the ruins is a ceremonial space still used by practicing Mayan shamans. The morning we were there, we saw three different groups gathered around fires in prayer, performing rituals that incorporated flowers, chocolate, honey, herbs, rice, corn, and alcohol.
While the 6 kids in our group explored the ruins by climbing and jumping, we adults hired an English-speaking guide. The guide informed us that Iximche was founded around 1470 by the Kakchikel Maya after they broke with the larger, dominant group, the K'iche. Soon after, Spanish conquistadors arrived and in a move known as "divide and conquer," allied themselves with the Kakchikel, vanquishing the K'iche and other native, highland peoples. The introduction of smallpox from Europe contributed to the conquistadors' success by decimating thousands. The Spanish declared Iximche the first capital of the Kingdom of Guatemala, but the town's supremacy was short-lived. By 1524, the Kakchikel abandoned their one-time home after the Spanish demanded of their former allies excessive tariffs.
During the tour, our guide  pointed out the ball court and the temples to the Sun and the Moon. He also told us the reason why pyramid steps seem, to our modern feet, unnaturally narrow: The ancient Maya never turned their backs to the sun. One way they kept proper orientation was by climbing steps sideways.
The admission fee to Iximche is 50Q for adults, about $6. The restrooms are clean; bring your own snacks and drinking water.  At the ruins' entrance, a quote from the Kakchikel Chronicles reads: "Do not forget the stories of our elders, of our forefathers."
A trip to Iximche will help you remember.
Photo credit: Peg Beasley