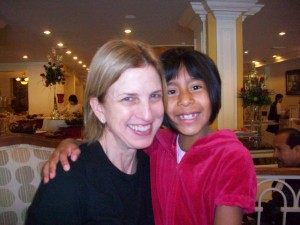 If you ask my children what my "job" is, they will say "doing laundry" or "cleaning the house" or "microwaving dinner." What they won't say is "She works on her computer all day" or "She wrote a book," because writing is something I do when they're at school or asleep. When they're around, I can't so much as turn on the computer without their demanding to play on the keyboard or sit on my lap. This I totally understand. They're my children. They want my attention all the time (except when they don't) and they deserve to have it. 
Today, after school, Olivia and I will have our own "take your daughter to work day." My editor at Seal Press has asked if I can come by their offices in Berkeley to drop off a piece of fabric that I bought in Guatemala. A detail from the fabric is being used on the cover of the book and the designer wishes to re-photograph it. Olivia gets off early from school today so I'll take her along.
Olivia is already familiar with the Seal office. She went with me to drop off the fabric the first time. My editor was excited to meet her and introduced Olivia to everyone involved in the book: the women in editorial, marketing, and design. Olivia was thrilled to see a real office filled with busy people doing important work. "They make books here," Olivia said. "Yes, they do," I replied.
 As we left Seal's office and walked back to the car, Olivia took my hand and said, "Mom, you're a writer." 
"Sometimes," I said.
Tags: Guatemalan adoption, Seal Press