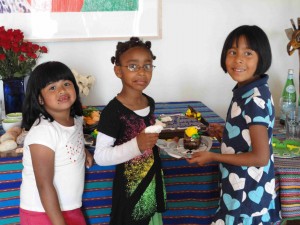 A friend sent me a link to an episode on The View that ran on Friday, June 16. The subject was international adoption, as it was experienced by adoptive parents who are not celebrities. Guests included blogger Kristen Howerton, mother to four children—two biological and two adopted (one from the U.S. and one from Haiti). Other guests were Adam Pertman, Executive Director of the Evan B. Donaldson Adoption Institute; a single mother; and a gay couple.
One aspect of the interview I found interesting happened in the beginning. One host asked Adam Pertman why so many people choose to adopt overseas when there are babies are available here. Pertman clarified, first, that while many children are available for adoption here, most are  not babies. Second, he pointed out that adoptive parents make choices for reasons that are personal, the same as anyone else. I'm paraphrasing, but he said something like, "No one asks a woman who is undergoing her seventh invitro fertilization why she doesn't adopt domestically. Nor should they."
 I was happy to realize I'm not the only person who gets asked the "overseas adoption" question. Just yesterday I was at a party where I was asked the same question, by three different people: "Why Guatemala?" As the author of a book about adoption from Guatemala, I'm eager to discuss the subject. But it was also nice to know it's not just me.
Kudos to The View for running a segment on international adoption that, in the end, helped to demystify the process. Of course I'm biased, but each of the adoptive parents was articulate about his or her reasons for adopting, as well as being incredibly appealing as human beings. One of the dads commented how adoptive families form networks and communities. I'm proud to be a part of that world.
The View:
 http://abc.go.com/watch/the-view/SH559080/VD5572100/the-view-618
Kristen Howerton's blog:
http://www.rageagainsttheminivan.com/2010/06/what-i-wanted-to-say.html
Tags: Adam Pertman, adoption from Guatemala, adoptive families, Kristen Howerton, Rage Against the Minivan, the Evan B. Donaldson Adoption Institute, The View