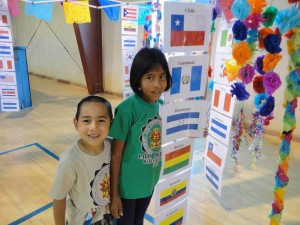 This is the third year I've been at the Opening Ceremony at Latin American Heritage Camp and I still cried. The children parade into the auditorium grouped according to their country of birth, carrying their country flag. The largest number of children were born in Guatemala—around 90—so they walked in first. Olivia and Mateo came in holding hands. Some other countries represented are Mexico, Belize, Honduras, El Salvador, Nicaragua, and Paraguay. Including presenters, about 450 people are attending. 
Being in a place where every family is a transracial adoptive family is extremely powerful.  Olivia and Mateo feel this, too. Both of them are old enough to be aware that in their class at school, on sports teams, and in church, they are "the adopted brown kid with white parents." At Heritage Camp, every child is adopted. I try to imagine a similar parallel in my life, and I can't. Adoption is a defining experience like no other. Because I'm not adopted, I can never truly understand what that experience feels like. Being at Heritage Camp raises my awareness and sensitivity to how profound the experience is. 
I've learned the most by listening to panel discussions by older transracial adoptees. Panelists include adults and teens. Sometimes the sessions end in tears, as thoughts, fears, resentments, and joys are revealed, often for the first time. The talks give me some insight into what is ahead for my children and our family. Also helpful is simply observing families with older kids. We are friends with adoptive families at home, but none have older children or teens. Seeing the families at Heritage Camp gives me a picture of what that family dynamic looks like. My great hope is that I do as good a job raising my children to their teen years as have the parents at Heritage Camp. The middle- and high-schoolers are teens I admire.
Other great programs are "Beyond Camp," a workshop about how to incorporate lessons learned here into daily life; "HeART Talks," where kids make art projects that lead to discussions about identity and race; and "More than Me," where middle-schoolers fundraise for a worthy cause, this year for an orphanage in Peru.
Mateo and Olivia have spent the past few days enjoying soccer, astronomy, digging for Mayan "ruins," breaking piñatas, going on hay rides, and taking dance and Spanish classes. This morning Olivia said she didn't want to go home. Me, either.
http://www.heritagecamps.org/camps.html
Tags: adoptive families, Colorado Heritage Camps, Guatemalan adoption, HeART Talks, international adoption, More than Me, transracial adoption