My mother reared five children and I still don't know how she did it. Around this time of year, she likes to remind me of her favorite cartoon from that era: The final frame depicted a mom throwing flowers at a departing school bus as it carried her children to their first day of school. I laugh every time she tells me.
Which is just another way of apologizing, yet again, for being delinquent in posting. Summer! It's nonstop! And we've been all over the place. Believe me, I have loved every minute of school vacation–the kids are the perfect age for traveling, filled with wonder and enthusiasm, up for anything and everything–but our activities haven't left much time for blogging.
Here are a few photos. The one above, taken by adoptive dad Mark Acker, is of the group from Moguate, a gathering of families with children from Guatemala. The name derives from Missouri, where the organization is based, and Guatemala, of course. Founded by the hilarious and charismatic Cindy Swatek, Moguate is held at the Tan-Tar-A Resort on the Lake of the Ozarks the first weekend in August. If you live anywhere nearby, I suggest you go. The weekend's main activities are ripping down the waterslide, cooling off in the giant swimming pool, and eating pizza. But in the meantime, we adoptive parents share life stories, and in their own way, our kids do, too. In a summer of wonderful activities, Moguate stands out as a highlight.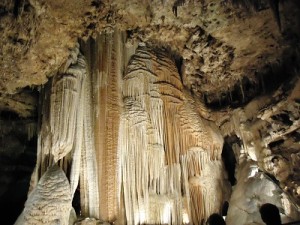 While you're in the Lake of the Ozarks, check out the kid-friendly activities in the area.  One of our favorites was the Meramec Caves in Stanton, Missouri. The hour-plus walking tour ended with a recording made by the late great chanteuse, Kate Smith, belting out "God Bless America." We didn't try the zipline, but we did sample the dark-chocolate homemade fudge. Outstanding.
I insisted we drive to Branson, and because our kids are fascinated by books about the Titanic, we visited the Titanic Museum. The exhibition included vintage photos, letters, and objects, as well as a re-creation of the ship itself. I don't know who enjoyed the experience more–the kids or my husband and me. For those few hours, the Titanic's ill-fated voyage felt very real.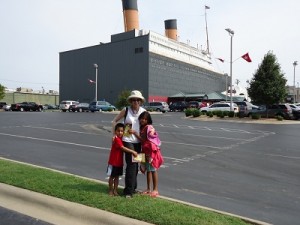 Driving back to the airport in St. Louis, we stopped at the Missouri State Capitol in Jefferson City, to view the newly restored and spectacular murals by Missouri-born artist Thomas Hart Benton (above). The excellent guide at the Capitol tipped us off to a locally famous ice cream parlor, the Central Dairy. In honor of my southern-born mother, I ordered a double scoop of her favorite flavor, black walnut.
That one cone alone made the trip worthwhile.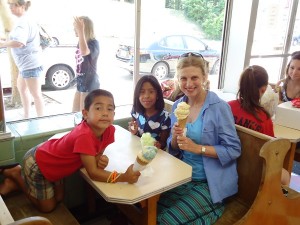 Tags: adoptive families, Central Dairy Jefferson City MO, Guatemalan adoption, Heritage Camp for Adoptive Families, international adoption, Lake of the Ozarks Missouri, Missouri, MOGUATE, Thomas Hart Benton murals in Jefferson City