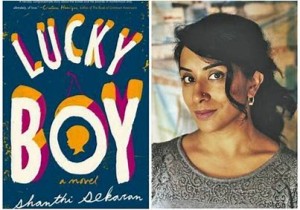 I recently finished reading the novel Lucky Boy by Shanthi Sekaran. The book tells the story of Soli, an undocumented woman from Mexico who is jailed and loses custody of her son, Ignacio, fostered by Kavya and Rishi, first-generation Americans who live in Berkeley, CA. Kavya and Rishi wish to adopt Ignacio while Soli fights for her son from prison.
In an interview, Shanthi Sekaran says she was inspired by the real-life news reports of Encarnacion Bail Romero. (You may remember Bail Romero, from Guatemala, living in the US, who was jailed in a raid; relatives kept her son, then placed him in foster care, where he was adopted by US citizens, the Mosers. A prolonged court case ensued; Bail lost custody permanently and, I believe, was deported.)
I loved the novel, as did the other students in my Antioch MFA cohort who read it. Well-written and plotted. Believable characters, realistic settings. Lots to discuss for book clubs.~
Lucky Boy by Shanti Sekaran.
Photo: Internet images