On Saturday, Mateo received his Confirmation. For his Confirmation name, he chose "Miguel" (as in the Archangel), and for his sponsor, Olivia.
I'm proud of my son for reaching this milestone, and of his sister for guiding him through his faith journey.
Like siblings everywhere, my kids fight. But when it matters, they stand up for each other, and have from the beginning.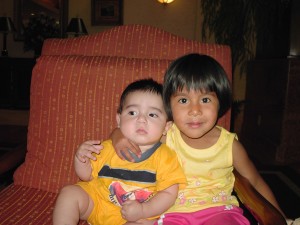 Here they are at Confirmation, and meeting for the first time in the lobby of the Guatemala City Marriott (now Barcelo), when Mateo was six months old and Olivia three.
Not only blood makes a family.
xoxo