Last Saturday, Mateo, my sister Patrice, and I arrived in my favorite place on earth, Antigua, Guatemala. It's insane how much I love Antigua—the colonial architecture and cobblestone streets, the ring of volcanoes, the churches, the Square. We've been visiting Antigua since I fostered Olivia there in 2003, and every trip we discover something different. This time, we climbed Volcano Pacaya, an extraordinary adventure that deserves its own post, and will get one soon. We also spent two days at Lake Atitlan, my other favorite destination. Olivia's Girl Scout troop collected some 75 pairs of gently used kids' sneakers, soccer cleats, and shoes, which Mateo, Patrice, and I lugged down on the airplane, and hand-delivered to Mayan Families, an organization we support that serves indigenous families in the region. Pictures on that adventure to come, too.
This trip, we connected with three other adoptive families visiting Antigua, two with eight-year-old boys, and one with a younger girl. The girl's family I had met virtually, through our mutual membership on an adoption listserve; I know the boys' families through our local adoption group. I mention this as another benefit of forming adoption networks—when you visit Guatemala, you can meet up with friends. Mateo loved sharing meals and fun with all three kids. And let me tell you, for an active, eight-year-old boy, scaling Pacaya with two other active, eight-year-old boys qualifies as downright awesome.
The fabulous Nancy Hoffman, who has lived in Guatemala for more than a decade and is known to most of you reading this as the founder of guatemalareservations.com, helped us with arrangements. If you're planning to visit, contact her at Nancy@GuatemalaReservations.com and she'll set you up.
The Saturday before we left, we visited friends who live in one of the small villages surrounding Antigua. After a lovely afternoon, on the way back to town, we passed local residents creating alfombras (carpets made of sawdust and various materials) outside their homes and businesses for the village's Lenten procession later that night. The artists kindly indulged us by letting me take pictures while Mateo inspected their handiwork, delighted to take part in the local tradition.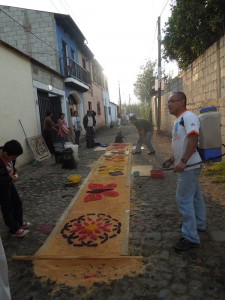 Our trip consisted of dozens of such small, unexpected moments, which already have entered the realm of treasured memories. To me, those treasured memories are what give life meaning. I feel lucky to share them with my son Mateo, in his beautiful birth country of Guatemala.