Yesterday, Olivia and I took a bus trip with a group to the nearby pueblo of San Antonio Aguas Calientes, a town renowned throughout Guatemala for the beauty of its weavings. I felt like a prospector who has struck gold: here we were at last, the motherlode. We visited a women's cooperative, founded some twenty years ago to benefit the education of local children. (I think; everything was said in Spanish and, as usual, I struggled to keep up.)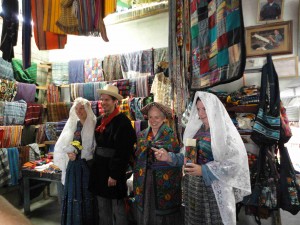 The senora pictured above (wearing her distinctive huipil) gave a presentation about weddings as practiced by the indigenous in San Antonio, dressing four members of our group in traditional traje. The woman third from the left represented the groom's mother. The beautiful weaving draped around her shoulders took hours of effort over a year to make—a gift from the bride. In return, the mother-in-law will give the bride a special frilly apron, lovely to be sure, but still, an apron. A lively discussion ensued—What about girls who can't weave? Does the bride have any say in her choice of groom?—after which we enjoyed the Guatemalan national dish, pepian, with time left over for shopping.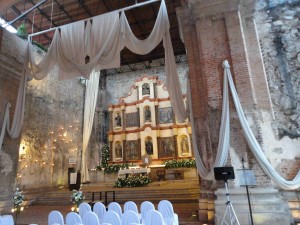 I took the final photo at Antigua's premier hotel, Casa Santo Domingo, which Olivia and I visited a few days earlier with Kallie and Maya. The ruins behind the hotel were set up for an evening wedding. As we left the site, the wedding party had arrived from the capital, everyone dressed in stunning and stylish finery. A different setting and ceremony from the one in San Antonio Aguas Calientes, but each a celebration.