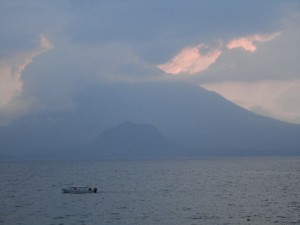 A re-post written by my friend, Caroline Callison Tiffin, who knows Guatemala very well. On Wednesday, a boat sank on Lake Atitlan, with 17 people on board. Ten were rescued; three drowned, and four remain missing and are presumed dead. I'll echo Caroline's last sentence: "Enjoy the beautiful lake, but be safe!" From Caroline:
Adoptive families often ask about safety in traveling to Guatemala. I tell them it's generally quite safe for tourists who use common sense and listen to the advice of their guide if they have one. I think most questions relate the the possibility of being a victim of crime but sometimes danger lurks in more unexpected situations: on Wednesday a tragedy occurred on Lake Atitlan, a popular tourist destination, when a boat traveling from Santiago Atitlan to Panajachel sank with 17 on board. Ten were rescued, 3 perished and 4 more were missing and presumed dead including a doctor from the Hospitalito in Santiago. He called colleagues to report the boat was going down but it is thought he may have drowned trying to save another before rescue teams could arrive.
The lake is not to be missed but many boats lack sufficient/adequate life preservers. The water is very cold and very deep. For my groups I have a local resident and friend charter all our lake excursions with a friend of his who runs safe boats. Although the law requires a life preserver for each passenger this is very often ignored. I understand there were way fewer than 17 on the boat that sank.
I suggest you book any lake excursions with a legitimate travel agency. Even then some pilots will operate their boats while intoxicated and on non-charters will grossly overload their boats to maximize profit. As early as noon on some days the afternoon Xocomil winds begin and on days like Wednesday when the wind is extra fierce an overloaded boat can capsize. If you suspect the pilot is impaired and or if you think the boat is overloaded, get off! Have everyone on your group put on a life preserver before leaving the dock – if there aren't enough, get off! Enjoy the beautiful lake but be safe!