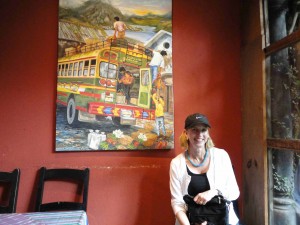 Our days here are winding down, so I'm going to post a few photos of us in a few of our favorite eateries, or, in one case, on the calle out front. Olivia took the photo of me, above, in Cafe Condesa, the restaurant on the Square that is always packed with Antiguenos, North Americanos, and visitors from around the world. Olivia loves their pancakes; I always order their eggs and black beans. If you've been to Antigua even once, you've probably enjoyed a cup of their coffee.
Olivia's other favorite food, anywhere, is pizza. We've discovered a little place where they'll cook hers the way she likes: no cheese, with pepperoni extra crispy. The restaurant boasts three television sets, and no matter when we go, afternoon or evening, on one of the channels we can watch Shakira leading thousands of fans in dancing the "Waka Waka." Here's Olivia breaking into her version on the street.
The last photo is of Olivia and me at what is perhaps Guatemala's most famous eatery, Pollo Campero. When we first started visiting Guatemala in 2002, we smelled Pollo Campero on every plane ride home: the overhead compartments were filled with buckets of the crispy chicken, carried by Guatemalans to family members in the United States. I hear now that Pollo Campero is everywhere, from Florida to Texas. No wonder we no longer smell it on the airplane.
I bet I'm not the only one who misses the aroma.