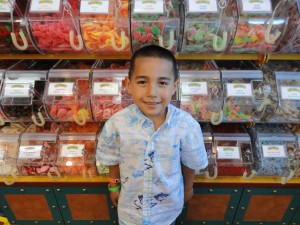 After the Fourth of July parade, as we drove down the main street in Coronado, Mateo spotted a candy store through the car window. Ever since then, he has asked, about once an hour, to go. 
Being a conscientious mom, I explained all the reasons we shouldn't, including tooth decay and sugar bugs, and the disappointment sure to be felt by his dentist, whom we are scheduled to visit next week, after we return home to San Francisco. To strengthen my argument, I did what I always do when Mateo is relentless is his jonesing for sweets: I opened my mouth to show him my back fillings. "This is what happens to people who eat too much sugar," I said. "Cavities." 
But we're on vacation and it's a candy store. What kid can resist that? 
So I made a deal. If they ate breakfast and got themselves dressed, hung up their beach towels and put their clothes in the laundry, brushed their teeth and got in their pajamas—all things most kids do anyway, but that's another story—maybe we might go to the candy store. We'll see. 
On Tuesday afternoon, we went. Olivia, who doesn't even like candy, saw the bins filled with every magnificent color and shape of sugar and carbohydrate, and literally danced with joy. Mateo scooped samples with both fists. As I watched them dart from pecan turtles to chunky fudge, I realized there's a reason why the expression "kid in a candy store" has been passed down throughout the ages.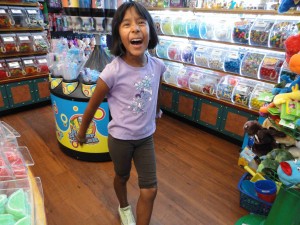 Twenty minutes later, we left with each kid clutching a bag of treasure. Out on the sidewalk, they skipped a few steps ahead of me, close enough that I could hear them discussing the details of their stash. I pretended not to notice they had already broken their promise not to eat a single piece before dinner.