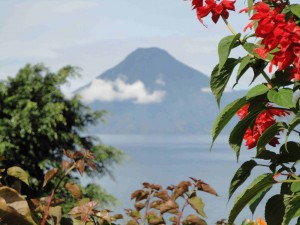 There is no bad view of Lake Atitlán. This particular vista is of one of the volcanoes surrounding the lake, Toliman, framed by white wispy clouds and an orange tropical flower. One morning while everyone else was asleep, I went onto the terrace of our hotel and a woman from England said to me, "You have to take this picture!" So I did.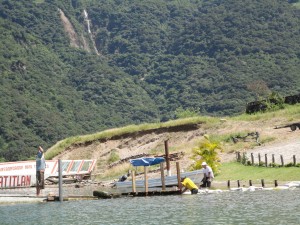 In the second photo, you can see men repairing a dock in Panajachel that was wiped out by Tropical Storm Agatha and her recent follow-ups. We saw such repair occurring and necessary all around the lake's perimeter. (If you look closely,  you can see a gushing waterfall in the foliage above.) One of the main modes of transportation around Atitlan is via lancha, or small boat, a favorite activity for Olivia and Mateo. To board our lancha, we climbed down a makeshift wooden gangplank and clambered over slippery wet sandbags. I would have taken more photos, but I was too busy hanging onto Mateo to prevent him from leapfrogging over the sandbags into the drink.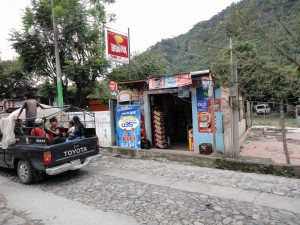 Panajachel is often scorned as being overrun by gringos and tourists, but in my experience at least, most of that activity is centered on Calle Santander. It takes about ten seconds to get off the main street and venture into areas where the "real people" live. One of those places is the headquarters for Mayan Families, a nonprofit organization run by Dwight Poage and Sharon Smart-Poage that serves indigenous families in the area surrounding Panajachel. They do everything: operate schools, fundraise for stoves and sewing machines, deliver holiday tamale baskets, install rotary water filters, and even treat the dog and cat overpopulation with animal adoption and neutering clinics.
As I've mentioned before, our family sponsors the education of a 13-year-old boy named Juan, seen here with his mother and two brothers. One of the requirements for students to qualify for and remain in the program is to present a report card each term. So far, Juan is hanging in there. In many parts of Guatemala, going to school through the sixth grade is an enormous accomplishment.
The photo  was taken by Mayan Families' head of donor relations, Ely. A few months ago, Ely emailed us photos of a chronic skin condition that has plagued Juan and one his brothers for a few years. Thanks to Ely's photos, my husband, Tim (a clinical dermatologist), was able to determine that the boys suffered from untreated eczema combined with a likely sun allergy. Ironically, the simple treatment of hydrocortosone cream, when bought at our local California Costco, costs about one-sixth of what it costs here. (The price of some medicines in Guatemala is another story for another day.) Needless to say, we bought cases of the stuff for Ely to dispense as needed.
This was our second visit to Mayan Families, and once again we came away impressed.
Tags: Calle Santander, Lake Atitlan, Mayan Families, Panajachel Guatemala, Volcano Toliman