I had to post this photo of a street in Solola because it shows a man in traje, the traditional dress of indigenous Guatemalans. Guatemala is divided into twenty-two "departments" or regions, and each department has its own unique design, a tradition developed hundreds of years ago. (My post on Nimpot showed examples of ceremonial traje hanging on the walls.) Although many Guatemalan women wear traje, not many men do; most dress in blue jeans or more contemporary clothes. In case you haven't seen traje in person, here's a photo.
Another reason I like this photo is that is juxtaposes the traditional with the modern. Especially in larger towns such as Solola, you see that a lot: a wide range of people, from school students in uniform, to farmers, to office workers. In Guatemala City, the capital, especially in restaurants and hotels, you could be in any large urban area where the men and women are extremely stylish. (I often feel underdressed, as I would in New York or Madrid.)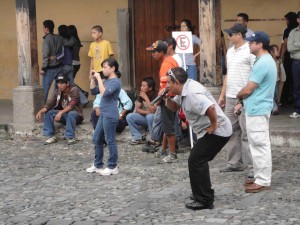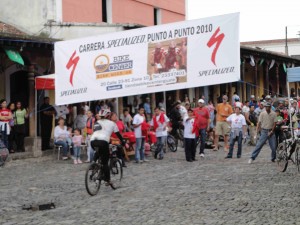 Tim and Mateo have returned to the States, and Olivia and I are back in Antigua. One morning as we walked to the Square, we found ourselves in the middle of a bicycle race. Tim and I have done a fair amount of riding in our day–we once rode our bikes from San Francisco to San Diego–but I imagine the challenge pales in comparison to navigating some roads in Guatemala. This particular race started somewhere 50 kilometers away (I think) and ended in Antigua. Olivia and I clapped loudly as the enthusiastic announcer welcomed each finisher. Afterwards, we split a plate of pineapple and ate a stack of pancakes each at one of our favorite restaurants, Cafe Condesa. Sympathetic carbo-loading, you understand.
The last photo shows Olivia holding the bridle for a couple of goats. You can imagine the scene: Us out walking and who do we pass but a very nice man and his son, herding goats on the calle. Without our even asking, the boy gave the ropes to Olivia to hold. He knew, as I do, that kids are the same all over the world. If there's an animal with a leash in the vicinity, they want to lead it.
P.S: Please excuse my not using accents where needed. (Solola, for example.) I won't bore you with my computer issues, but cannot figure out where to access the accents on this particular screen. Apologies!
Tags: Antigua Guatemala, bicycle race in Guatemala, Cafe Condesa, Guatemala City, Solola Guatemala, traje