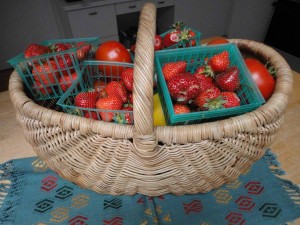 In September, all the work we've put into the garden during the past year finally pays off. Tomatoes, strawberries, Meyer lemons, basil. In sauces and gazpacho, smoothies and pies. Sliced onto cereal, on ice cream, broiled with parmesan cheese. Meyer lemons, Meyer lemonade. And Pesto! Pesto by the quart. On pasta and bread. Pesto for lunch and for dinner. Buckets of pesto. 
Summer comes to Northern California not in July or August, but in September. The days are warm enough, at last, to turn our tomatoes red, our lemons yellow. Before breakfast, Tim goes out with a basket, and by the time I wake up the kids, a bowl on the table is filled. 
Because I am who I am and my husband is married to me, we see parallels between our garden and adoption. Tim noticed it first. In Texas, where he once lived, there are four seasons. Everyone, he says, plants tomatoes the same week; gardeners can predict their harvest to the day. But here in California, we plant in February, March, April, or May. Our tomatoes come in, variably: maybe in August, or else in September. Some years, we eat tomatoes off the vine at Thanksgiving. 
How is a California garden like adoption? As Tim pointed out, a normal pregnancy takes nine months. With a pretty good degree of accuracy, expectant parents know when their baby will arrive. There is no such calendar with adoption. Maybe it will take six months, unless it takes two years. For the families still waiting for their children in Guatemala–whose cases have been stalled since adoptions closed in January 2008–it must feel as if it will take forever. 
Guatemala 900, we're thinking of you as another season passes.
Tags: adoption from Guatemala, California garden, Guatemala 900