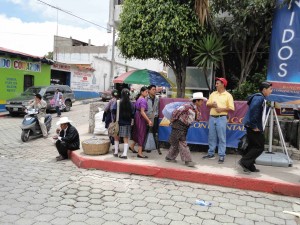 It's always a great day around here when the New York Times publishes an article that includes Guatemala and the news is good. That happened this morning, when I opened the Sunday edition, and saw the front page of the Travel section announcing an article by Seth Kugel on page 6: "The Highs and Lows from 13 Weeks Traveling From Sao Paolo to New York on $70 a Day." I've been following Kugel's Times reports on his journey throughout the region–he writes as "The Frugal Traveler"–and was eager to see how he rated Guatemala.
Winner of Kugel's "Best-Dressed" Award? The "Residents of Sololá, Guatemala." Whoo-hoo! (Readers of this blog may remember Sololá's fabulous traje from a photo I posted  this past summer.)
Kugel writes: "I  did not expect Sololá to be memorable. I was just changing buses there, but since it was Friday— market day—I stopped to explore."
"I expected to see stands offering spices and batteries, women dressed in colorful local costumes making tortillas and men buying (and wearing) the cheapest fashions that Chinese factories have to offer."
"But this market was different: the men wore traditional woven shirts and pants so riotously colorful — bright oranges and yellows and pinks and purples, sometimes in the same square inch — that even the most non-fashion-conscious shopper (i.e., me) couldn't take his eyes off them."
The Times even ran a large photo of the beautiful traje.  We all know it's spectacular, but now it's official.
The cemetery in Chichicastenango was named "Best Place to Spend Eternity," with the photo to prove it. Kugel writes:
"Guatemala impressed me most not with its brightly colored fabrics or its misty green mountains, but with the deep influence of its Mayan past. Children playing soccer in the streets call for the ball in indigenous languages. Women and children still wear traditional clothing. But most intriguing of all is the melding of Catholic and traditional Mayan religion. Mystified by the Mayan priests performing ceremonies outside the Catholic church in Chichicastenango, I realized it was time to hire a tour guide."
Kugel ends the Chichicastenango section by observing, "If you don't believe in heaven, I can't imagine a more lovely, lively place to be dead."
In the online edition only, Kugel awards Guatemala "Best Use of a Frying Pan." He writes: "Guatemalans also have a knack for fried chicken, which is not as surprising considering how nuts Guatemalan transplants go when an outlet of their native fried chicken chain, Pollo Campero, opens in the United States." We fans of Pollo Campero appreciate the nod.
Finally, the not-so-good news. Amid the kudos, Guatemala also snags the trophy for "Worst Way to End a Night."  Kugel describes a ride in "battered former school bus," that ended with the driver dropping him in Coatepeque, a dozen miles from the Mexican border, his ultimate destination. The "Worst Way to End a Night" part happened when Kugel found himself in an area of town that felt "shady," especially because he was traveling "with several thousand dollars of electronic equipment."
Kugel made a "beeline for the nearest hotel… where nearly $4 a night gets you a mattress, a pillow, a sheet, four dirty walls, a locked door and little else." At least, he says, the "The staff was nice, which, considering the surroundings, made me feel safe."
Overall, though, a great representation by Guatemala. And a lovely way to end the weekend.
http://frugaltraveler.blogs.nytimes.com/2010/09/14/frugal-summer-highs-and-lows/?ref=todayspaper
Tags: Chichi Guatemala, Chichicastenango cemetery, Coatepeque Guatemala, NY Times Travel section, Seth Kugel, Solola Guatemala, travel to Guatemala