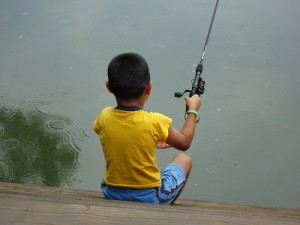 My husband often teases me that wherever I am is the next place I want to move. Right now, that place is Missouri. We've been here for the past week, first for a family reunion of Tim's family in St.Louis, and now at Lake of the Ozarks for the fifth annual gathering of MOGUATE.
Yes, it's hot. To put the heat in perspective, 95 degrees feels cool, as long as the humidity is less than 95 percent. But the landscape is beautiful, the people are nice, and the food is outstanding. I hadn't realized you can fry anything, even ravioli. Now I know you can. We've been eating BBQ, brisket, broasted chicken, biscuits, green beans, and corn on the cob. I feel like I'm back in my grandmother's kitchen in Virginia, where my family spent summers when I was a child.
Here are a few photos, of cousins at the family reunion, the St. Louis Zoo, and the Lincoln Museum in Springfield, Illinois. More pictures to come, as soon as I can find my camera.